6 Most Beautiful Places in Autumn Pakistan
Pakistan is one of the luckiest country on the planet which has been blessed with 4 seasons these are summer, spring, autumn, and winter. Pakistan is also blessed with rivers, mountain ranges, historical places, landscapes, fresh fruits, and of course its attractive cultures. Millions of people from around the world visit Pakistan every year during the summer, spring, autumn, and winter season, to enjoy the beauty of nature. The northern areas of Pakistan are the main attraction of people because of their mesmerizing beauty. Some places in Swat, Balochistan are famous as well. These places display the untamed and bewildering beauty of the country.
There are many mesmerizing places in Pakistan that the world has ever known, but there are also some parts that haven't been fully explored, and that builds curiosity for adventure seekers. You can see crowds of people in the summer spring and autumn seasons. But today we will discuss some beautiful places in Pakistan during the autumn season.
Autumn is the beloved season the season after summer and before winter, in the northern hemisphere from September to November and in the southern hemisphere from March to May. In Pakistan, it occurs during September, October, and November. In this season leaves become brown and fall from trees which gives a heaven look and the temperature is beyond cold. Here we will discuss some beautiful places during the autumn season.
Most Beautiful places in Pakistan
Autumn In Hunza Valley
Hunza is a mountainous valley located in the northern part of Gilgit-Baltistan in Pakistan. It is the most visited valley in Pakistan. This is the destination where people can enjoy all four seasons. The valley of Hunza is famous for its autumn among travelers around the world. Autumn in Hunza valley and other surroundings starts in the second week of October and last till mid-November every year. It brings a vibrant color pallet with it as the hills are covered in leaves and snow, making Hunza more picturesque. Because of this dynamic landscape, this valley is often called "Heaven on Earth".
Autumn in Hunza is something to behold. The best thing about autumn in this valley is the colorful burst forth of apricot, walnut, mulberry, and cherry trees into a color riot, the trees start changing color like a bride with a colorful dress on her wedding day. This fantastic change in weather offers the best view of the surrounding mountains.
Autumn In Skardu Valley
Skardu valley is also located in the northern part of Pakistan surrounded by the Karakoram, and Hindukush mountains. In addition. This city is famous for K-2, the second-highest peak in the world which attracts climbers from all over the world to visit this place. Geographically Skardu is very diverse. You can see hypnotic lakes, green valleys, rocky mountains, deserts, and snow-capped mountains. In Skardu Autumn starts in mid of October and lasts till December. It is the time of year when the valley looks like a painting the trees seem to be on fire as their leaves turn red, orange, bronze, and gold, sharply contrasting with the surrounding mountains. During autumn Khaplu valley, Satpara lake, Deosai National park, Kchura lake, and Shangri-la lake are gorgeously perfect places to visit Skardu. The stunning sceneries, breathtaking beauty, and generosity of residents make this region a worthy tourist destination.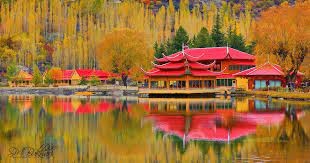 Autumn In Swat Valley
Swat is one of the most beautiful regions of Pakistan located in KPK. Swat is known as east Switzerland because of its free-flowing rivers, natural waterfalls, rushing river streams, and tall pine trees set against the snow-capped alps. There are numerous resorts located in a swat that offer spectacular sunrise and sunset views. You can visit swat at any time to enjoy beautiful views.
Autumn In Naran-Kaghan
These are popular destinations for tourists. They are around 240km from Islamabad. Siri Paye, a capturing site with beautiful green meadows set against a mountains backdrop. From Babusar top, you can enjoy a beautiful view as its highest mountain pass connects northern areas with other provinces.
Autumn In Katas Raj Temple
This is a place where you can enjoy beauty and historical views at the same time. Katas Raj is a famous place in Punjab located about 16km from Kallar Kahar in the district of Chakwal. Here 7 historical temples of Hindus are present which gives an amazing view but the Holy pond between these temples will grab all attention.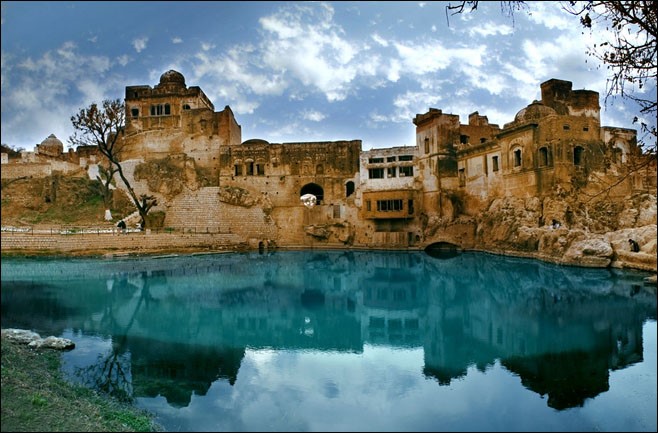 Autumn In Phandar Valley
If someone looking for a peaceful foyer during Autumn then Phandar valley is the perfect place for them. This beautiful and picturesque valley is located in the Ghizer district in Gilgit Baltistan. The best time to visit this place is Autumn, which provides you with the vibrant colors of autumn. Turquoise blue water, meadows, and beautiful contrast of nature's colors leave you completely stunned. The valley of Phandar is also called the home of fishing and during autumn fishing is at its peak in this valley. The beauty of the valley is truly fascinating and unbelievable.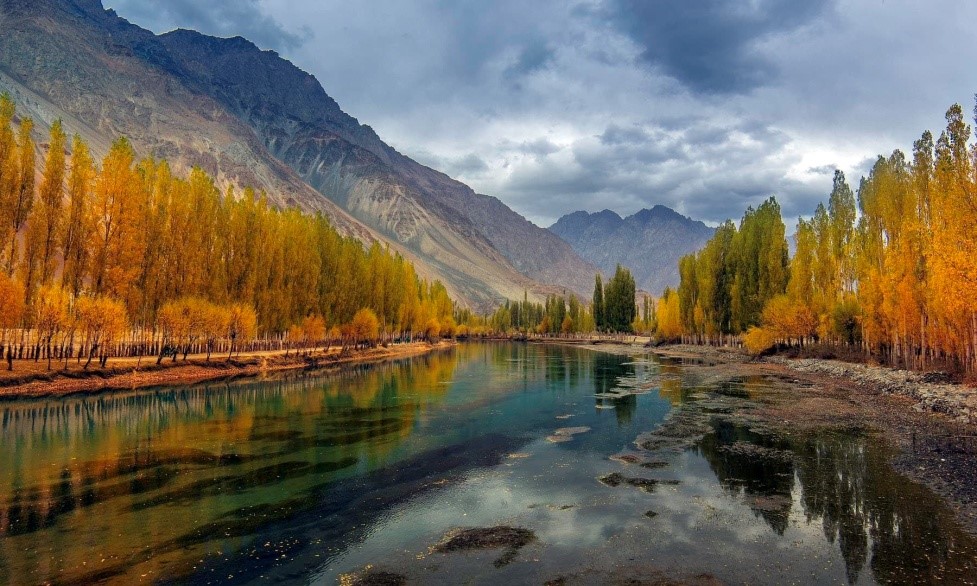 In conclusion, autumn is a very magical period with colorful leaves, a pleasant environment, and pristine beauty for viewing and exploring. The shades of colors include gold, yellow, red, and orange, of the tree's shadow reflects on the rivers which enhances the image of autumn. This makes it difficult to distinguish between actual and defective images. Pakistan is one of the few countries with exotic customs, mountains, rivers, and supernatural culture. People from all over the world should come to this paradise country not only in summer and spring but also in autumn.